The Secrets of Fortune Telling, for Fun & Profit
Sunday 8th March 2020
10am – 5.30pm
The Flying Horse Hotel, Rochdale, Greater Manchester
Do you ever wonder what the future might have in store for you?
Have you ever wished you could read the Tarot Cards for Friends and Family?
Are you looking for a new career or an additional income that is fun, unique and lets you meet new and interesting people?
Join International Psychic Entertainer & Fortune Teller Dr. Stuart "Harrizon" Cassels, one of only a handful of Psychic Entertainers to hold an Honorary Doctorate in Divination, for this intensive 1 day workshop which will help turn even the complete novice into a Confident, Competent & Highly Accurate Fortune Teller.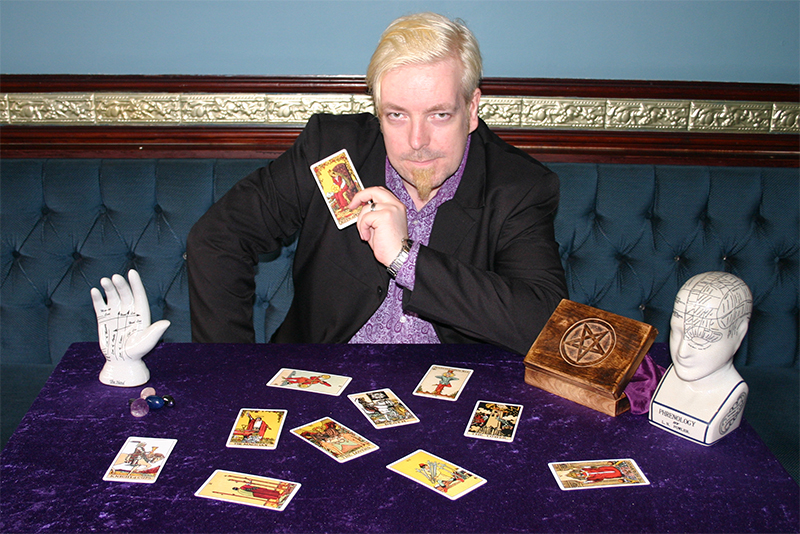 This unique workshop is designed so that no matter what your previous experience of fortune telling is, you will be able to read the future for yourself, family, friends and even paying clients.
Whether you are a Genuine "Shut Eye" Fortune Teller or an "Open Eyed" Psychic Entertainer, or are completely new to these areas and would just like to add some profitable new talents to your tool kit, then this is the perfect event for you.
Thanks to the proven Accelerated Learning Systems and Magical Memory Methods used by Harrizon by the end of the day you will have easily, enjoyably & effectively learnt:
The Meanings of all 78 Tarot Cards.
How to Conduct Professional-Standard Tarot Readings for yourself, family and friends.
Various Tarot Card Spreads to answer a variety of questions.
The Meanings of the 52 Playing Cards for Fortune Telling.
How to Conduct Cartomancy (Playing Card) Readings.
The simple Numerology System that Harrizon regularly uses at parties, events, and when discussing his skills with potential clients.
The Lazy Man's Guide to Star Sign Astrological Readings.
Palmistry for Character Readings.
Plus you will also discover:
How to develop your intuition enabling you to give readings with Sand, Gem Stones, Tea Leaves & other traditional divination systems.
How to develop your own, unique systems for fortune telling with other objects, that work, and will help you stand out as unique at Psychic Fairs, Mind Body & Spirit (MBS) events etc.
How to heighten your own Genuine Psychic Powers to increase the accuracy of all the readings you give.
Stuart's views on the modern day Psychic Industry, and how to be an ethical Fortune Teller.
Here is what a few of our students had to say about our last live training course:
I want to thank Dr. Stuart Harrizon Cassels for his amazing workshop last weekend teaching the Tarot cards and other techniques. Stuart is very professional, adds in some humour but his wealth of knowledge and what he gives in the session, one can't possibly put into words.
Everyone on the course adored it and we all were so excited by what we were learning. He simplifies things so you can understand what you need to know. He is a very gentle, kind and genuinely nice man!
I can thoroughly recommend Stuart as I have attended many of his workshops and always come home feeling full of eagerness to get started on what I've learned.
– Susie Lawrence
Excellent training by Stuart – Interactive methods took out memory work with his unique system. Every time I look at packet of cards or tarot cards now I instantly remember his way of reading them. Learnt so much in such a short time.
– Roy Brownlowe
Thanks Stuart for a truly wonderful and enlightening training course. So many things I will be able to put into practice.
– Heather Wood
A truly educational experience. Thank you so much.
– Lee Darren
FREE BONUS GIFTS WHEN YOU BOOK NOW…
Seating for this event is Strictly Limited, so to encourage you to take action and secure your place to join us in Rochdale on Sunday 8th March 2020, when you book today as well as your ticket to attend in person, you will also gain access to this Amazing package of Free Gifts…
Dr Jonathan Royle's R.A.T. SYSTEM – PHYSICAL DVD-ROM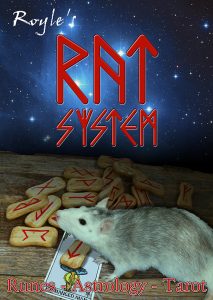 This physical DVD-ROM usually retails for $77 (which is approx £59) and is yours Free when you attend this workshop.
More information (external link, opens in new tab)
Free Access to 5 hours of Online Video Training – The Professional Fortune Teller's Masterclass worth £247
Filmed in October 2018, for a selected audience, Dr. Stuart Harrizon Cassels and his guest speaker Dr. Jonathan Royle reveal the secrets of becoming a Professional Fortune Teller. Many of the attendees at this exclusive event had never picked up a pack of Tarot Cards before that day, but left armed with all the knowledge required to start working as a Professional Fortune Teller.
SECURE YOUR PLACE TO ATTEND TODAY
Because this event is being filmed for future release, to both encourage you to attend in person at The Flying Horse Hotel (so we have people to demonstrate upon) and also to thank you for participating we have slashed the standard price of attending one of our one day events down from £247 all the way down to just £97…
Tickets are Strictly Limited so to avoid disappointment, Book Now.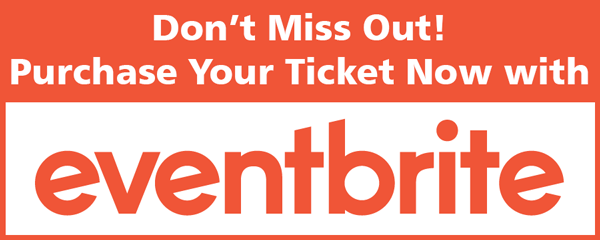 Standard Price: £97
All email enquiries – enquiries@fortunetellingacademy.co.uk
Need Accommodation? Book your hotel room at the Flying Horse Hotel
Download your Event Information Pack with details of Parking, Accommodation & More.
All fortune telling demonstrations and teachings are conducted in accordance to current UK legislation, and as such we are obliged to state that such demonstrations are presented for entertainment purposes only.